NOV. 2017 ANNUAL GOSPEL CRUSADE ENDS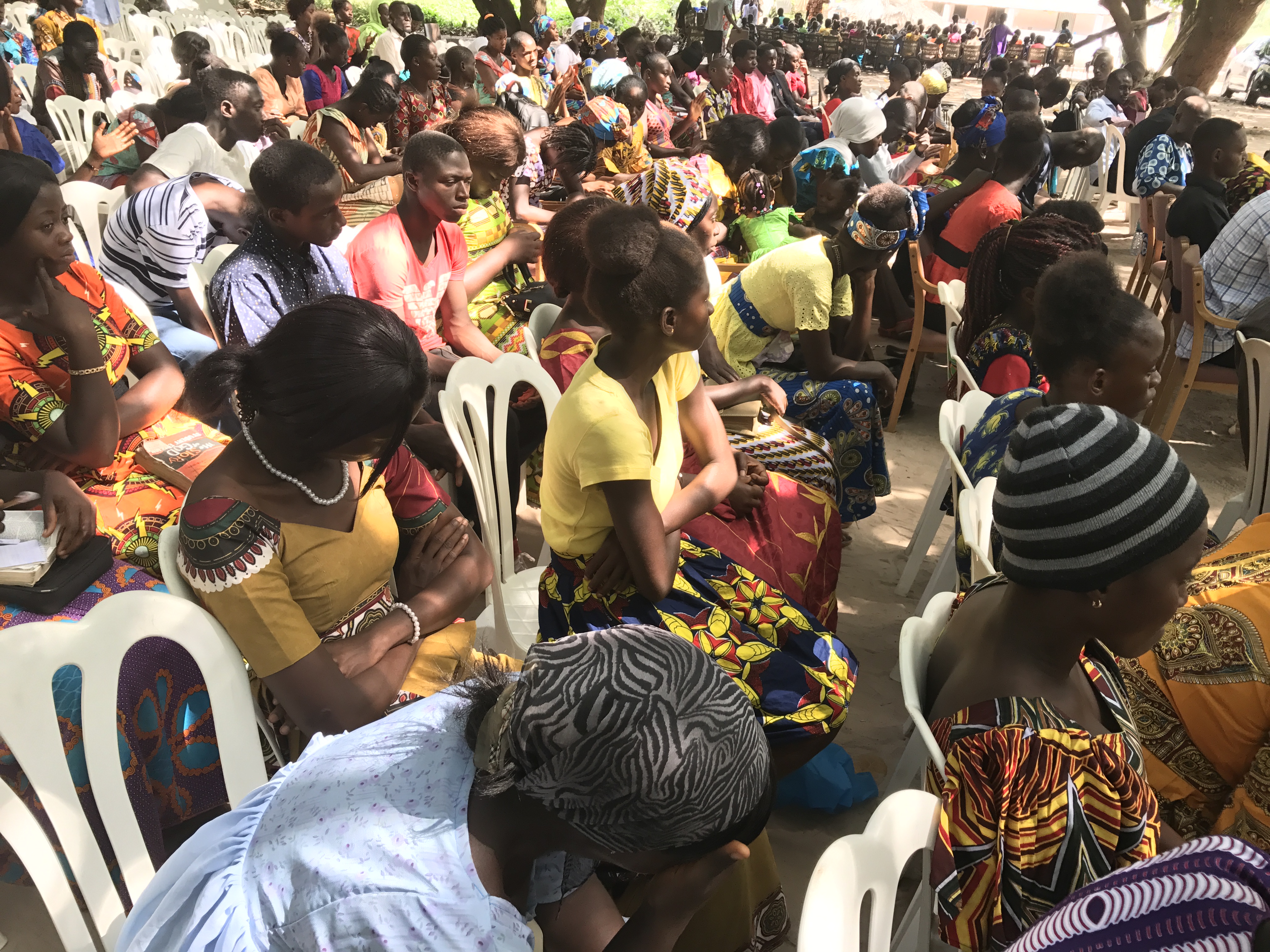 Nov. 3-5, 2017 marked the beginning of our Annual National Gospel Crusades which attracted
324 on the first day, Friday Nov. 3, 2017
403 on the second day, Saturday Nov. 4, 2017
333 on third day, Sunday Nov. 5, 2017
in attendance with 20 souls won to Christ at the end.
We really praise God for the lives of the willing Missionaries, Pastor Rick Clevenger & Brother J. Faison, Crossroads Community Church Newport, TN. who made it to Gambia to grace the occasion with us for all the days. Their Mission Trip was fruitful and a blessing to us, Church and as a Nation at large
A 5-DAY MISSIONS TRIP TO SIERRA LEONE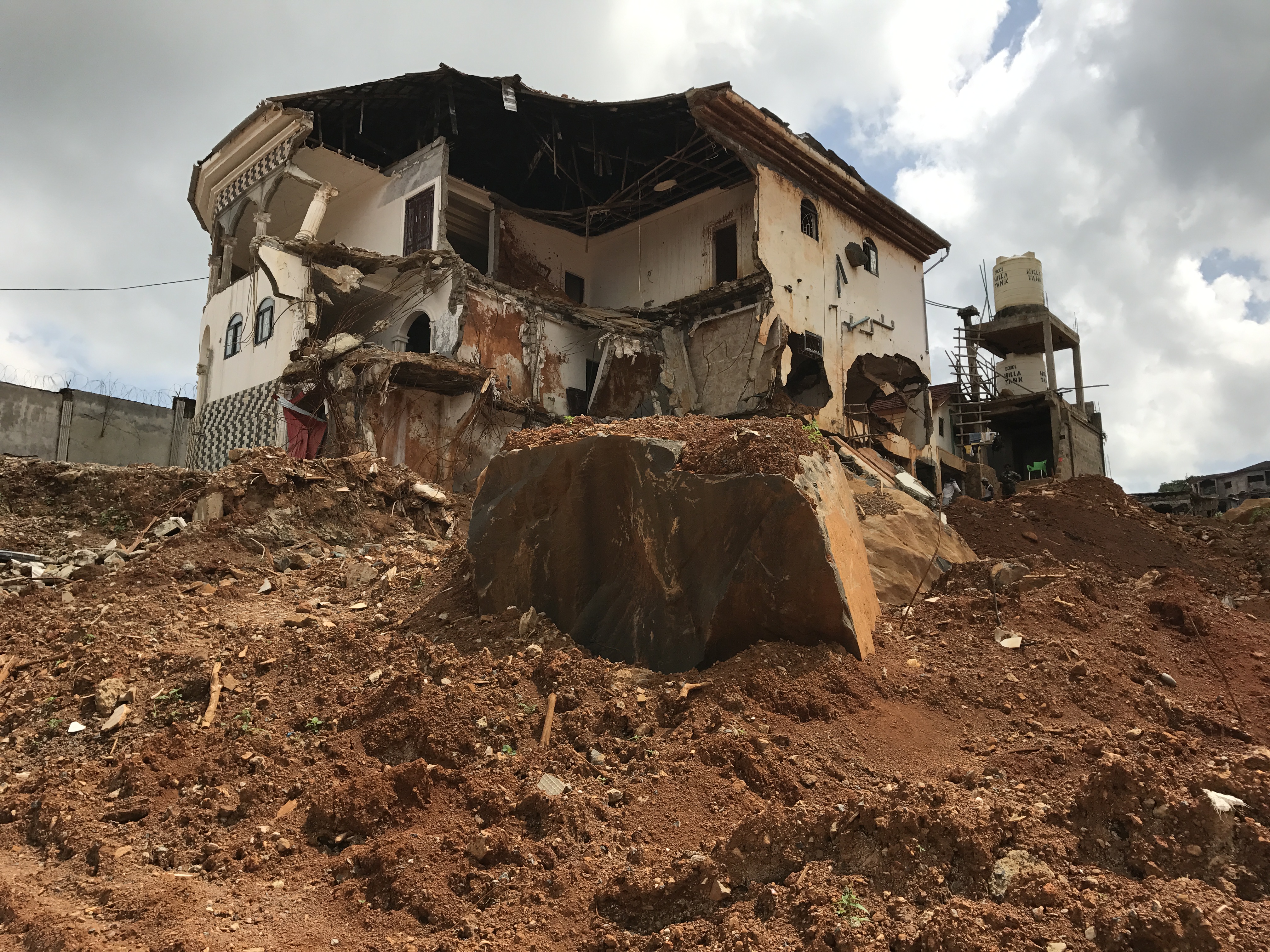 Our Mission Trip to Sierra Leone, Freetown Oct. 27-31, 2017 was great and worthy of praises to Him and Him alone.
23 converts were baptized by immersion on Saturday Oct. 28, 2017
7 Souls were won to Christ on Sunday Oct. 29, 2017 as you view the photos of baptism down the stream and converts being prayed for.
The other photos show a former unsuccessful Cinema/Theater or Video club where soccer matches were been shown now available to rent for Church use at a cost  Le 4,000,000.00 an equivalent of $ 550.00 per annum. Being such a strategic location for members, we manage to make a part payment to hold it and against forfeiting it. Pray for Sierra Leone and help if you can.
ON A SAD NOTE:
The other Pictures show SUGAR LOAF MOUNTAIN, where the landslide/ flood happened August 14, 2017 costing 450-1000 lives according to a security personnel on the ground. It is an area never to be inhabited according to Colonial Masters which was denied. A man who once came to remind and to advise the people to avoid the area was brutally murdered with many of his parts cut some 10 years ago. It was on the 10th year of that man's murder on the spot that the unfortunate incident happened with many lives perished.
This is the country that was hit by an 11 years rebellion where many were amputated at a choice of the victim, long or short sleeve, rape and Ebola virus causing many to scatter into African countries as refugees who have and are still returning.
Do please pray for that country especially towards an upcoming Presidential Election.

DEACONS AND DEACONESSES ORDAINED AT THE 15TH ANNIVERSARY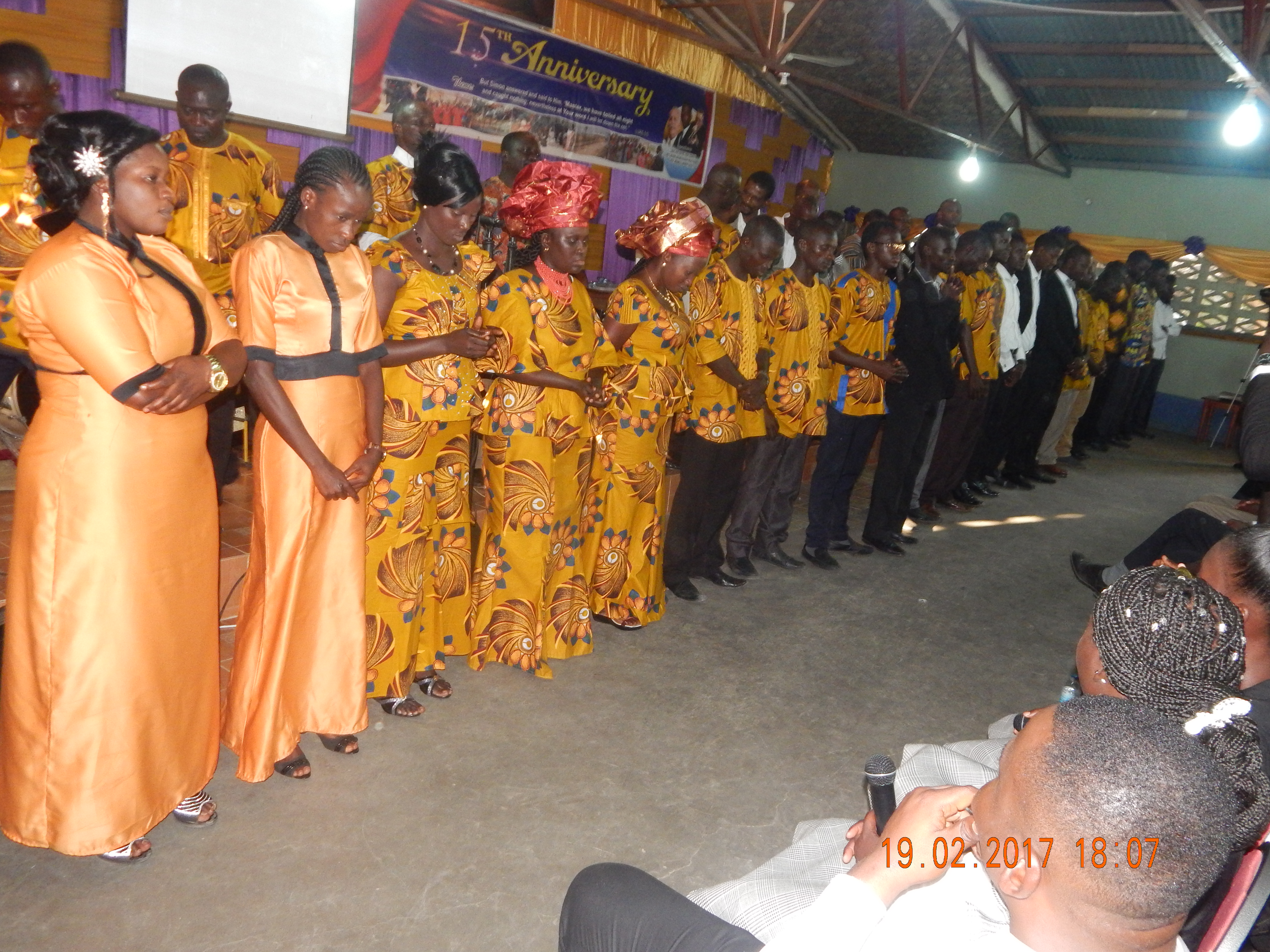 The 15th anniversary of the Church (February 15th – 19th) ended the 5-days convention with the ordination of Deacons and Deaconesses to help in leading the Church to the next phase.
The 5-days programme was overwhelmingly successful as several souls were won for Christ during the course of the convention.
Our special thanks to the guest ministers, Rev Kevin Kellough and Rev. (Dr) Patrick D. Hayes, who both flew in from the United States of America.
14TH ANNIVERSARY CELEBRATION ENDS  WITH MORE SOULS WON FOR CHRIST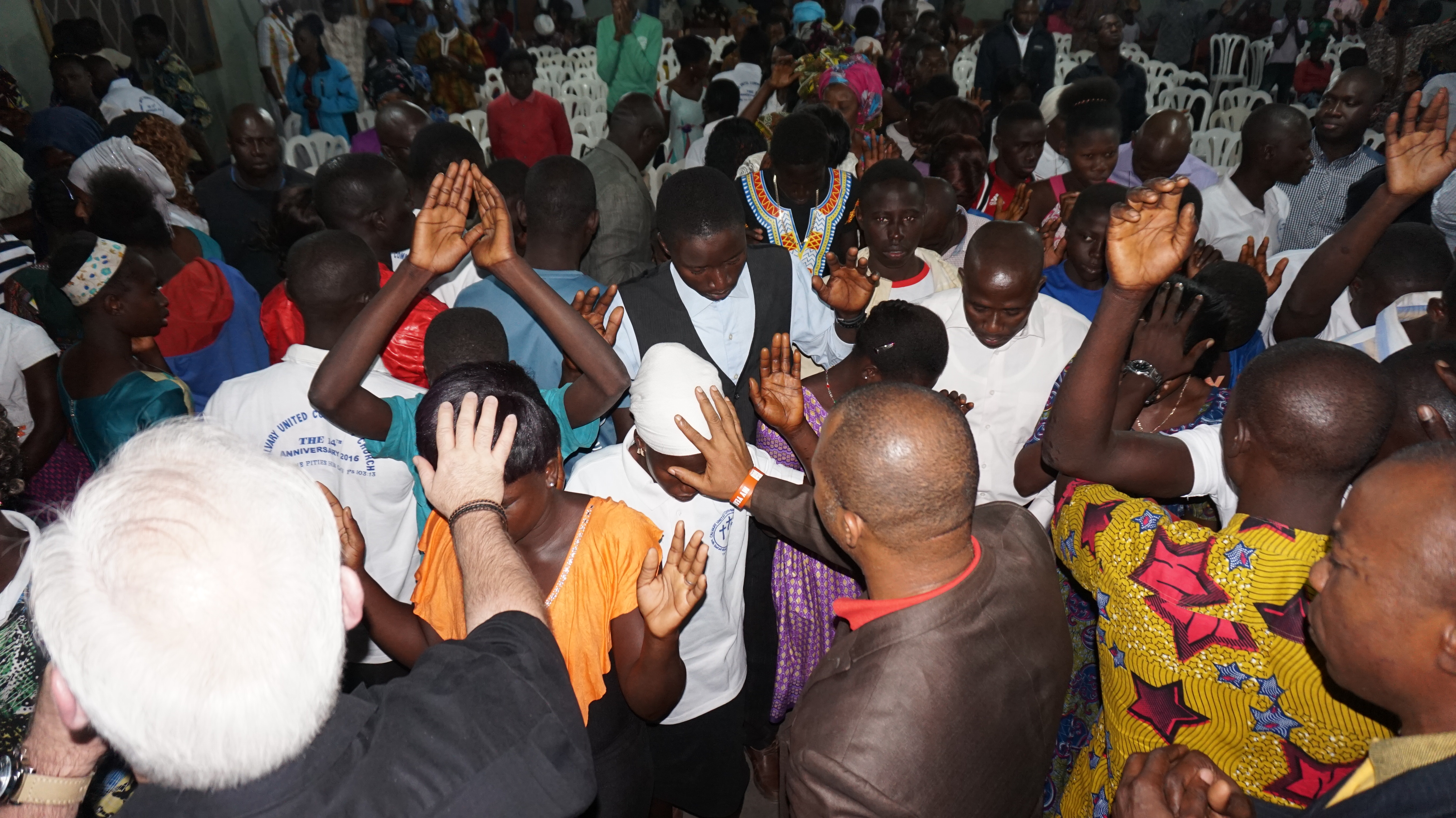 The 14th anniversary of our Church, Calvary United Community Church, The Gambia that started on February 17th , 2016 ended on the 21st of February, 2016 with several souls won to the Kingdom of God.
Guest Ministers , Pastor Kevin Kellough and Rev. Dr. Patrick D. Hayes, from Gastonia, North Carolina and Virginia, U.S.A were mightily used by God to minister to the people of The Gambia.
The convention which also was graced by most of the nation's Senior Pastors had over 700 people in attendance.
We give all the glory to God and thank all those who supported us with their prayers, finances and attendance. May God richly bless you all.
WELCOME TO  2016 – THE YEAR OF RETURNING HOME
2015 ended in a spectacular fashion as hundreds of worshippers tropped into the Church complex to thank, Praise and worship the Almighty God for the year 2015. There were testimonies of God's ever present favour, blessings and protection in the lives of people.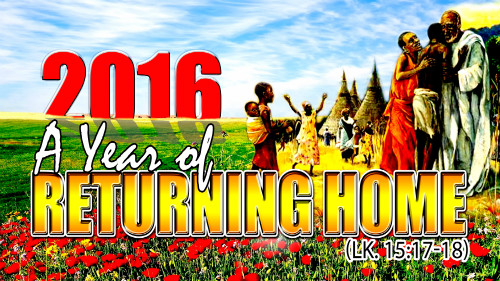 Many testified of God desliverance in alot of areas in their live.
As a Church, it was another successful year for us. There were challenges along the course of the year, but God saw us through as he promised.   All praise to His Holy name.
Welcome to 2016 – The year of returning home.
2015 UCMA CAMP MEETING ENDS IN CLEVELAND, TENNESSE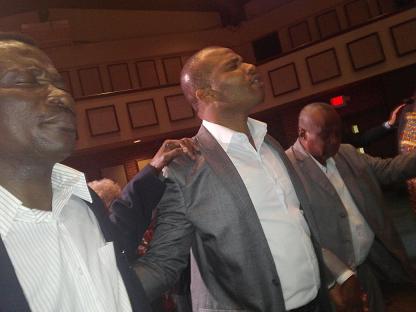 The 2015 United Christian Ministerial Association camp meeting ended on Saturday, July 4th with a breakfast meeting of the Ministers.
Overall, it was a wonderful time of breaking bread with Ministers from across the world – India, Kenya, Nigeria, Ghana, Gambia, Canada, Sri Lanka, South Africa etc.
The Ministers pledged to work even more closely especially with the increasing level of evil springing up across the World. The organisers called for chain prayers for America in particular and for their respective ministries and countries.
PASTOR MENDY MINISTERS AT ABBA'S HOUSE CHURCH, HIXSON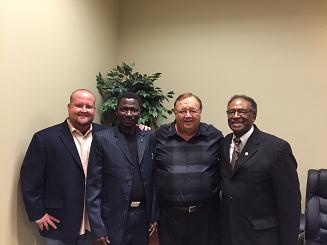 On Wednesday July 1st, 2015 Pastor Mendy ministered at the Abba's  House Church in Hixson, Tennesse.
It was a powerful time in His presence.
All glory to Him alone.

POWER OF GOD RAINS DOWN IN SANDALI AND SAMBUYA VILLAGES WITH SIGNS AND WONDERS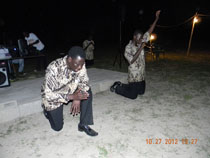 Although we do encounter difficulties in transporting Church members and other participants to Gospel Crusade grounds such as the recent one in Sandali village between Oct. 26– 28, 2012, which we are grateful to the Almighty for His leading and for 49 won souls to Christ with 242, 259 and 309 in attendance for the three days respectively.
The most recent Crusade was in Sambuya village Nov. 16–17, 2012 with an unusual crowd drawn in. The program ended on Sunday Nov. 18,2012 where a great service was held under cashew trees in Jambanjelly village with a total number of 50 souls won to Christ.
This visit to these villages through such Crusades, being first of its kind has brought a new experience and several villages are now open to this ministry for a visit with the Gospel'', remarked one civil servant who lives in the village.
Though the Crusade was marred by evil manifestation through big snakes which were killed during the crusade nights (as shown in pictures)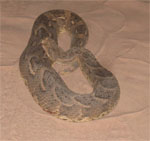 but healing, deliverance and a miracle of halting an unusual rain through prayers of the Saint as led by Pastor Bidwell Mendy was evident of the presence of the power of God at the crusade ground in Sandally village.
The awesome manifestation of the power of God drew great jubilation and thanks from the crowd to the Almighty for being a prayer answering God.